DoFollow and NoFollow?
"DoFollow is a term used to describe a site that is not practising NoFollow in their site"
Simple explanation isn't it? I'm pretty sure you guys have heard of this term before. Perhaps in other website or in my previous entries (check PR exposed or Backlinks revealed). For sure this thing is important in building good backlinks to your site, thus to increase your PageRanks.  But what does it means? Let's first explore the basic before tackle these things.
DoFollow and NoFollow is a hyperlink that tell search engine whether or not to pass credential or vote to an outbound link.  A link will be counted as a vote by google (Important for search engine rank) if it appeared in a blog with "dofollow" attribute. On the other hands, it will not be counted in "nofollow" blog.
NoFollow attribute was intoduced due to the fact that most spammers in the earlier day, abuse the usage of comment box by flooding lots of links in other's blogs. Spammers don't care about this since for them, link juice back to their blog is much important as it will increase their PR. For sure you might have read comments in other's blogs that seems unrelated to the post. With NoFollow attribute, spammers will never get any vote from that blog thus will not help to increase their PR.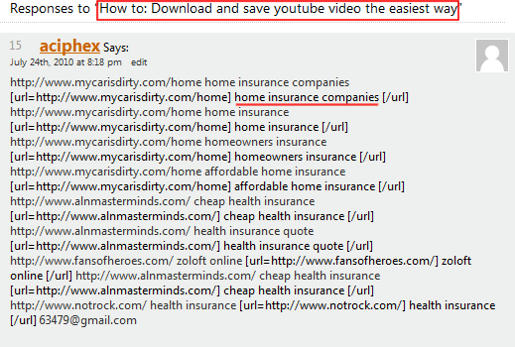 Look at this comment, does it related to the entry that I've posted?
Some bloggers might argue by saying that blogs with NoFollow attribute will also help to increase PR. In my own point of view, even if it does not help your PR but at least it does help to increase traffic to blog. People always try to click your link when viewing your comment provided it is informative able to attract viewers. But please make sure your comments are related to the post. Now you know the importance of leaving your comment on other's blog even though that blog is a NoFollow blog.
HOW TO DETECT DOFOLLOW AND NOFOLLOW LINKS?
A computer program can be used to detect whether a website is practicing a DoFollow or NoFollow. For Firefox user, all you need to do is to download and install this plugin: Searchstatus 1.33 and for Google Chrome, try this plugin: NoFollow. These plugins will automatically highlight all "NoFollow" links on the page and leaving all DoFollow links. If you see a link highlighted such as figure below, you will know it is a NoFollow link.